In early 2020, the FDA will unveil a "blueprint" outlining plans to modernize its approach to regulating food safety under the Food Safety Modernization Act (FSMA). These plans will include the use of technology-enabled traceability tools such as PIMM Supplier Delivery System, new predictive analytic measures to assess risk, and data analytics to improve root cause analyses and respond to contamination.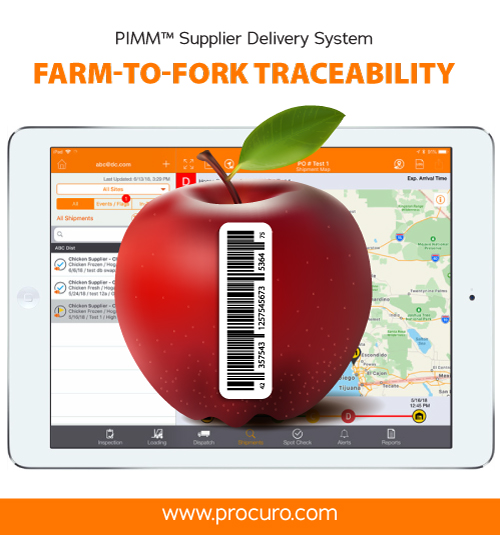 Traceability and foodborne outbreak response involve technologies, data streams and processes to reduce the time needed to track and trace the origin of contaminated food and respond to public health risks.
Currently, most food companies keep records one step back to identify the source and one step forward to where the food has gone, as required by federal law. And many companies keep their records on paper, not electronically. Federal and state investigators found this especially frustrating in 2018 as they sought to determine the source of E.coli-tainted Romain lettuce from the Yuma growing region. Had growers and shippers used the electronic records, tracing the origin might have taken minutes or even seconds, instead of weeks and months!
PIMM™ Supplier Delivery system supports a shipment-tracking feature that provides the GPS location of the 3rd party carrier during transit. The system will automatically detect if a shipment will be late so the receiver can make alternate plans if they have a product shortage issue.
Once the shipment arrives at the receiving location, the system also provides a "CSI-like" function that identifies where and when the shipment may have been thermally abused.
PIMM™ software automatically uploads the temperature data by simply placing the PIMM™ LogTag in its USB cradle. The shipment data is then analyzed and given a grade or rating. Any shipment that has a "D" or "F" will be automatically flagged for inspection.
All shipment data, ratings and reports are dynamically shared with all authorized supply chain partners.
To schedule a FREE DEMO PRESENTATION, please call us today (858) 457-8160!